The Turtles
A look at the 60's hit producing Turtles based on their anthology:
Happy Together Again - The Turtles Greatest Hits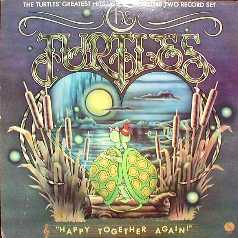 This was a very rare double album with 3 sides of their biggest hits and one side of unusual and previously unreleased tracks.
It was released by Sire Records in 1974. Catalogue # SASH-3703-2
as a "Deluxe 2-Record Set" Marketed by ABC Records
Produced by Mark Volman and Howard Kaylan for Flo & Eddie Inc.